WHEAT :: MAJOR DISEASES :: LEAF BLIGHT
---
Leaf blight - Alternaria triticina / Bipolaris sorokiniana
Symptoms
Reddish brown oval spots appear on young seedlings with bright yellow margin. In severe cases, several spots coalesce to cause drying of leaves. It is a complex disease, having association of A.triticina, B.sorokiniana and A. alternate.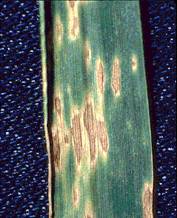 Symptoms
Disease cycle
Primary spread is by externally seed-borne and soil borne conidia. Secondary spread by air-borne conidia.
Favourable Conditions
Temperature of 25˚C and high relative humidity.
Management
Spray the crop with Mancozeb or Zineb at 2 kg/ha.
---