WHEAT :: MAJOR DISEASES :: POWDERY MILDEW
---
Powdery mildew - Erysiphe graminis var. tritici
Symptoms
Greyish white powdery growth appears on the leaf, sheath, stem and floral parts. Powdery growth later become black lesion and cause drying of leaves and other parts.

Symptoms
Pathogen
Fungus produces septate, superficial, hyaline mycelium on leaf surface with short conidiophores. The conidia are elliptical, hyaline, single celled, thin walled and produced in chains. Dark globose cleistothecia containing 9-30 asci develop with oblong, hyaline and thinwalled ascospores.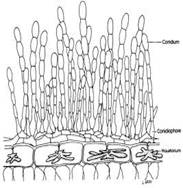 Conidia and conidiophores
Disease cycle
Fungus remains in infected plant debris as dormant mycelium and asci. Primary spread is by the ascospores and secondary spread through airborne conidia.
Favourable Conditions
Management
Spray Wettable Sulphur 0.2% or Carbendazim @ 500 g/ha
---