WHEAT :: MAJOR DISEASES :: FLAG SMUT
---
Flag smut - Urocystis tritici
Symptoms
The symptoms can be seen on stem, clum and leaves from late seedling stage to maturity. The seedling infection leads to twisting and drooping of leaves followed by withering. Grey to grayish black sori occurs on leaf blade and sheath. The sorus contains black powdery mass of spores.
Symptoms
Pathogen
Aggregated spore balls, consisting 1-6 bright globose, brown smoth walled spores surrounded by a layer of flat sterile cells.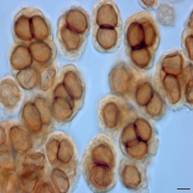 Spore balls
Favourable Conditions
Temperature of 18-24˚C.
Relative humidity 65% and above.
Disease cycle
Seed and soil borne. Smut spores are viable for more than 10 years.
Management
Treat the seeds with carboxin at 2g /kg.
Grow resistant varieties like Pusa 44 and WG 377.
---