PESTS OF PULSES - RED GRAM & CHICKPEA :: Major Pests :: Plume Moth
---
4. Plume moth:  Exelastis atomosa (Pterophoridae: Lepidoptera)


Distribution and status:  India, Nepal and New Guinea
Host range:  Red gram, lablab, niger and horse gram
Damage symptoms

            The tiny larva bores into unopened buds, flowers and tender parts. 5-20% pods are damaged.




Bionomics: Adult is delicate, brown coloured small moth with plumed wings.  Eggs are laid on flower buds and tender pods.  Egg period is 4 days.  Larva is greenish brown, 10 mm in length densely packed with short hairs and spines.  Larval period is 14-30 days.  It pupates on the pods itself.  Pupal period is 4-8 days.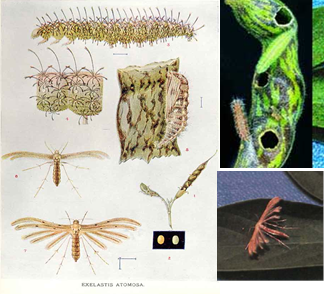 1. Egg on redgram pod, 2. Magnified egg, 3. Larva, 4. details of larva, 5. Pupa, 6, 7. Moths

Management
Conserve Larval parasitoids, Apanteles paludicolae, Diadegma sp.,
Chemicalcontrol measures are the same as redgram pod borer.




---