MAIZE :: MINOR DISEASES :: MOSAIC
---
Mosaic - Maize mosaic potyvirus
Symptoms
      Symptoms appear as chlorotic spots, which gradually turn into stripes covering entire leaf blade. Chlorotic stripes and spots can also develop on leaf sheaths, stalks and husks. Moderate to severe rosetting of new growth is observed. Size of stalk, leaf blades and tassel tend to be normal in late infection.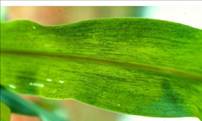 Symptoms

Pathogen
      It is caused by Maize mosaic potyvirus. Virions are flexuous, 750-900nm long, ssRNA genome.
Disease cycle
      It is transmitted in nature by leaf hopper vector, Perigrimus maidis.
---