MAIZE :: MAJOR DISEASES :: RUST
---
Rust - Puccinia sorghi
Symptoms
Circular to oval, elongated cinnamon-brown powdery pustules are scattered over both surface of the leaves. As the plant matures, the pustules become brown to black owing to the replacement of red uredospores by black teliospores.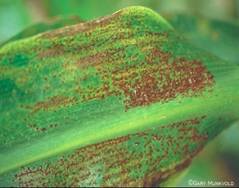 Symptoms
Pathogen
Uredospores are globose or elliptical finely echinulate, yellowish brown with 4 germpores. Teliospores are brownish black, or dark brown, oblong to ellipsoidal, rounded to flattened at the apex. They are two celled and slightly constricted at the septum and the spore wall is thickened at the apex.

Uredospores and teliospoes
Favourable Conditions
Cool temperature and high relative humidity.
Disease cycle
Primary source of inoculums is uredospores surviving on alternate hosts viz., Oxalis corniculataand Euchlaena mexicana.
Management
Remove the alternate hosts.
Spray Mancozeb at 2 kg/ha.
---