TUBER VEGETABLES :: MAJOR PESTS:: FLEA BEETLE
---
Flea beetle: Monolepta signata (Alticidae: Coleoptera)
Distribution and status:  More severe in South India.
Host range: Polyphagous pest, wide range of host plants like beet root, cabbage, cauliflower, chilli and radish.
Damage symptoms
Bite holes on leaves. In severe cases tuber development affected.
Bionomics:
Adult is 3-4 mm long, reddish brown elytra with two big white spots on each elytron.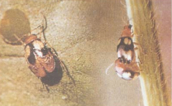 Monolepta signata
Management:
Spray endosulfan  35 EC 1.0 L or carbaryl 50 WP 1.0 Kg  in 500 L of water per ha or dust endosulfan 4 D 25 kg per ha .
---