TUBER VEGETABLES :: MAJOR PESTS:: HAIRY CATERPILLAR
---
Hairy caterpillar: Pericallia ricini (Arctiidae:Lepidioptera)
Distribution and status:  Sporadic pest
Host range: Castor, green manure, moringa
Damage symptoms
         The damage is caused by caterpillar.  It feeds on leaves resulting in defoliation. Larvae nocturnal and feed voraciously at night.
Bionomics
          The larva is robust, greyish black or blackish brown larva with red head and thick tuft of hairs arising from the body.  The adult is greyish brown or black colour and black spots on wings.  Hind wings are pink or red colour with black spots.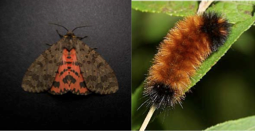 Pericallia ricini
Management
Spray endosulfan 35 EC or malathion 50 EC  1.0 L or carbaryl 1.0 kg in 500 L per ha
---