Pests of Guava :: Major Pests :: Mealy bug
5. Mealy bug:  Ferrisia virgata, Maconellicoccus hirsutus  (Pseudococcidae: Hemiptera)
Distribution and status: All over India and other grapevine growing countries.
Host range: Grapevine, Hibiscus, mulberry, guava, custard apple, okra, tamarind and glyricidia.
Damage symptoms

Both nymphs and adults suck sap that results in crinkling and yellowing of leaves and rotting of berries.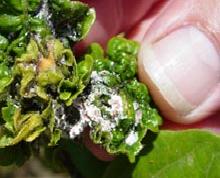 Bionomics

Female lays 350-500 orange coloured eggs in a loose cottony terminal ovisac; egg period 5-10 days. Crawler nymphs orange coloured, females and males with  3 and 4 nymphal instars respectively. Adult females pinkish and sparsely covered with white wax. One generation per month,  but, life cycle extends in winter months.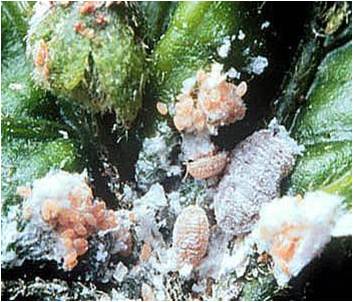 Management
Debark the vines and swab with methylparathion @ 1 ml /L to minimize the population
Spray dichlorvas 1.0 L or chlorpyriphos 1.25 L or  buprofezin 25 SC 1.0-1.5 L or methomyl  40 SP 1.25 kg with 500 L water/ha.
Release Australian lady bird beetle Cryptoleamus montrouzieri @ 2500 – 3750 per ha
Conserve coccinellid Scymnus craccivora and  lepidopteran predator Spalgis epius
Avoid spraying methyl parathion, carbaryl, monocrotophos, dimethoate, methyldemeton, quinalphos, diazinon, malathion etc as they are toxic to predators.
---