Pests of Sugarcane :: Major Pests :: Early Shoot Borer
---
1. Early shoot borer: Chilo infuscatellus (Crambidae: Lepidoptera)
Distribution and status: India, Pakistan, Indonesia, Thiawan, Philippines, Korea, Afghanistan and Burma.
Host range: Pearl millet, oat, barley and maize
Damage symptoms

Dead heart in 1-3 month old crop, which can be easily pulled out, rotten portion of the straw coloured dead-heart emits an offensive odour. A number of bore holes at the base of the shoot just above the ground level can be seen.  It is major pest in the early stage of the crop.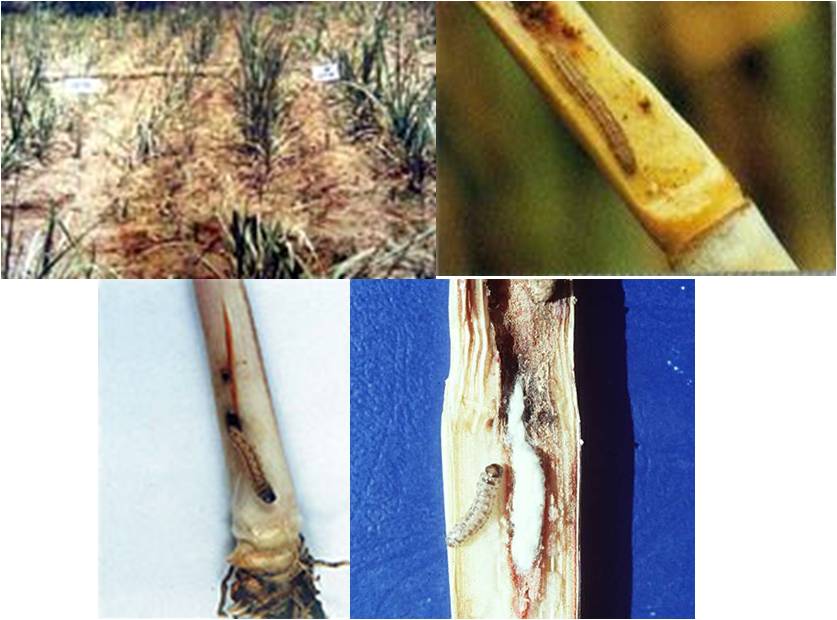 ETL: 15 % deadheart
Bionomics
Larva: dirty white with five dark violet longitudinal stripes and dark brown head.
Adult: Pale greyish brown moth with black dots near the costal margin of the forewings and with white hind wings.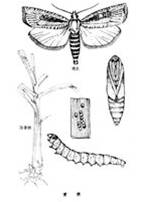 Management
Apply management practice if population excess ETL of 15% dead heart
Grow resistant varieties: CO 312, CO 421, CO 661, CO 917 and CO 853.
Planting in December – January escapes the incidence
Intercrop with Sesbania sp.(Daincha) for reduced shoot borer incidence
Trash mulching : 10 – 15 cm thickness on 3rd day after planting
Earthing up – 30th day
Ensure adequate moisture
Remove and destroy dead hearts
Apply Granulosis virus (GV) @ 1.1 x 105 granules twice on 35 and 50 DAP.
 Release tachinid parasitoid: Sturmiopsis inferens @ 125 gravid females.
Apply carbofuran 3G @ 33 kg or fipronil 0.3 G 25.0-33.0 kg / ha in the soil before the cane setts are covered.
Apply cartap hydrochloride 4G or fipronil 0.3 G at 25 kg /ha by mixing in 50 kg soil and sprinkle along the rows at 45 days after planting followed by earthing up.
Spray monocrotophos 36 SL 1000 ml or endosulfan 35 EC 1000 ml or chlorpyriphos 20 EC 1000 ml or chlorantraniprole 18.5 SC 375 ml or  fipronil 5 SC 1.5-2.0 L or  /ha
---