CASTOR :: MAJOR DISEASE :: BACTERIAL LEAF SPOT
---
Bacterial leaf spot - Xanthomonas campestris pv. ricinicola
Symptoms
            The pathogen attacks cotyledons, leaves and veins and produces few to numerous small round, water-soaked spots which later become angular and dark brown to jet black in color. The spots are generally aggregated towards the tip. At a later stage the spots become irregular in shape particularly when they coalesce and areas around such spots turn pale-brown and brittle. Bacterial ooze is observed on both the sides of the leaf which is in the form of small shining beads or fine scales.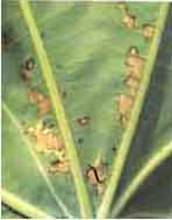 Pustules on lower leaf surface
Management
Field sanitation help in minimizing the yield loss as pathogen survives on seed and plant debris.
Hot water treatment of seed at 58˚C to 60˚C for ten minutes.
Grow tolerant varieties.
Spray Copper oxychloride 2kg/ha or Streptocycline 100g/ha or Paushamycin 250g/ha.
---