STAM 102 :: Lecture 15 ::

Internet: World Wide Web (WWW), Concepts

Internet
Network of interconnected computers around the world.
A network of computer networks which operates world-wide using a common set of communications protocols.
a computer network consisting of a worldwide network of computer networks that use the TCP/IP network protocols to facilitate data transmission and exchange.
Visualization of the various routes through a portion of the Internet: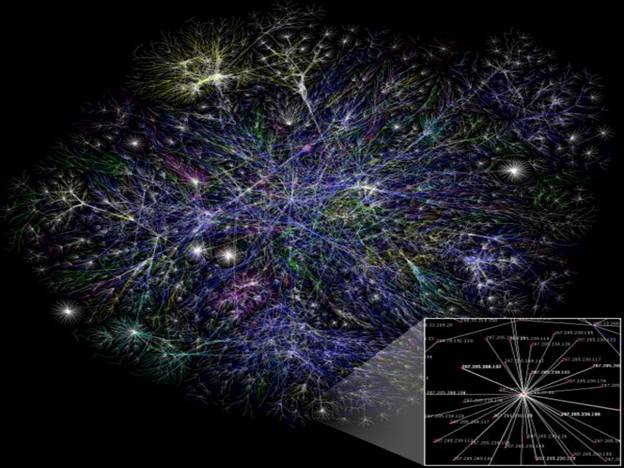 What do we need to get connected to internet?
Getting on the Internet requires:

Computer
Modem
Telephone Line
Internet Service Provider (ISP)
Communication Software
Modem and Telephone Line
Modem is a communications device that allows us to communicate with another computer through telephone lines.
Modem is abbreviation of modulator/demodulator.

Telephone services, such as

ISDN,
56K leased lines, and
T-1 connections

offer connections to the Internet at considerably faster connection speeds.
Internet Service Provider (ISP)
An Internet Service Provider (ISP) is a company that allow you to use their internet connection for a price.
When you register with an ISP the followings are given:

Username

A unique name that identifies you.

Password

A secret code that prevents other people from using your account.
Some Popular Internet Service Providers
AT&T WorldNet
Microsoft Network
America Online
In India:

VSNL (Videsh Sanchar Nigam Limited
MTNL (Mahanagar Telecom Nigam Limited)
BSNL (Bharat Sanchar Nigam Limited)
Satyam Onlile
Communication Software
Computer needs communicate
on software to allow you to get connected to, and interact with, the Internet.
Communication software is of two types:

Software that Helps Establish Basic Internet Connectivity
Software that helps to browse, access e-mail etc.
World Wide Web
"The World Wide Web is the universe of network-accessible information, an embodiment of human knowledge."

Tim Berners-Lee, a scientist at CERN (The European Organization for Nuclear Research (French: Organisation Européenne pour la Recherche Nucléaire), invented the World Wide Web (WWW) in 1989.
The Web was originally conceived and developed to meet the demand for automatic information sharing between scientists working in different universities and institutes all over the world.
The basic idea of the WWW was to merge the technologies of personal computers, computer networking and hypertext into a powerful and easy to use global information system.
The World Wide Web, abbreviated as WWW and commonly known as The Web, is a system of interlinked hypertext documents contained on the Internet.
With a web browser, one can view web pages that may contain text, images, videos, and other multimedia and navigate between them by using hyperlinks.
Hypertext
Hypertext is text displayed on a computer or other electronic device with references (hyperlinks) to other text that the reader can immediately access, usually by a mouse click or keypress sequence.
Apart from running text, hypertext may contain tables, images and other presentational devices. Hypertext is the underlying concept defining the structure of the World Wide Web, making it an easy-to-use and flexible format to share information over the Internet.
Web Browser
A web browser is a software application for retrieving, presenting, and traversing information resources on the World Wide Web. An information resource is identified by a Uniform Resource Locator (URL) and may be a web page, image, video, or other piece of content.
Example of Web Browser:

Mosaic
Internet Explorer
Netscape Navigator
Mozilla Firefox
Web Page and Websites
W3 contains several millions of pages of information. Each of these pages is called a Web Page.
A webpage or web page is a document or resource of information that is suitable for the World Wide Web and can be accessed through a web browser and displayed on a computer screen.
A web page can contain text, pictures, sound, animation and video.
A group of related web pages that are linked together form a Web Site.
The first page of a web site is called the Home Page.
The Home Page shown below is the Home Page of the official website of Tail Nadu Agriculture University.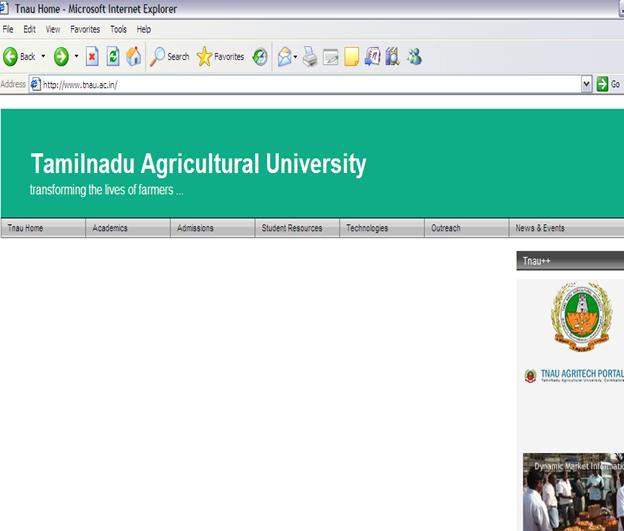 Universal Resource Locator
Each web page has a unique address called Universal Resource Locator (URL).
Contains unique information about the server and the path on the server to find and retrieve the information
Example:  http://www.usd.edu/trio/tut/start/url.html

http://

protocol – rules through which transmission takes place over the internet.

www.usd.edu/

server name - computer domain name

trio/tut/start/

pathname to the directory you are requesting

url.html

filename you are requesting
Search Engine
A web search engine is designed to search for information on the World Wide Web. The search results are usually presented in a list of results and are commonly called hits.
Few examples of web search engines are:
| | |
| --- | --- |
| Google.com | |
| Ask.com | |
| Yahoo.com | |
| Bing.com | |
| TripleMe.com | |
| Shopzilla.com | |