AGR 301 :: Lecture 15 ::

Saccharum officinarum

Introduction
            Sugarcane is an industrial crop with acreage of about 4 million hectares and production to the tune of 300 million tonnes in India. It provides employment to over a million people directly or indirectly besides contributing significantly to the national exchequer. In commercial agriculture, the cane is subjected to various weather conditions and stresses. In Indian subtropics erratic availability of moisture and frequent occurrence of red rot disease severely impair the productivity of cane. Sugarcane is an industrial crop with acreage of about 4 million hectares and production to the tune of 300 million tonnes in India. It provides employment to over a million people directly or indirectly besides contributing significantly to the national exchequer. In commercial agriculture, cane is subjected to various weather conditions and stresses. In the Indian subtropics erratic availability of moisture and frequent occurrence of red rot disease severely impair the productivity of cane.
Importance
62% world's sugar is met from cane
Sugar requirement is projected at 150 million tonnes for the world
India alone requires 16-20 million t
Sugar industry is the largest agro-based industry next only to textiles in India
At present there are 450 sugar factories
Average productivity is 14.2 million t (1998)
Average sugar recovery of 11%
By products in sugarcane industry
There are many end uses - probably more than 150
But many of them are of negligible economic interest
38 end-products are potentially important
But four main byproducts of the sugarcane are:

Cane tops
Bagasse
Filter mud / press mud and Spent Wash
Molasses

Cane tops

Cane tops have no real market value
They can be compared to fair quality fodder with an average feed value,
when fresh, of about 2.8 MJ of metabolizable energy per kilo of dry matter.
However cane tops should be collected and transported from the cane fields to the feedlot

Bagasse

It is the fibrous residue of the cane stalk left after crushing and extraction of the juice

It consists of fibres, water and relatively small quantities of soluble solids - mostly sugar

Utilizations are:

Electricity
Particle board
Paper
Furfural

It is a colorless, inflammable, volatile, aromatic liquid
25 tonnes of bagasse to produce 1 tonne of furfural
Furfural has many industrial uses:
Selective solvent for the refining of lubricating oils
As an intermediate in the production of nylon and resins

Methane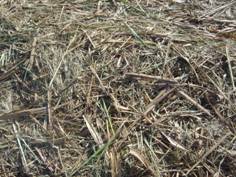 Filter mud / pressmud

The precipitated impurities contained in the cane juice, after removal by filtration, form a cake of varying moisture content called filter mud
This cake contains much of the colloidal organic matter anions that precipitate during clarification, as well as certain non-sugars included in these precipitates

Filter mud / pressmud

The use of filter mud

As animal feed has not proved economically rewarding, the main constraints being the magnitude of the drying process involved and the low digestibility of the dried scums
As soil nutrient there is limitations

Higher values of C.O.D. and B.O.D .
Wax percentage in substantial quantity which prevents microbial action
High concentration of various chemicals which are detrimental to survival of beneficial microflora
Bio-degradation being exothermic reaction survival of microbes except thermophiles is difficult
Due to above mentioned difficulties, bio-degradation of pressmud and spent wash is a difficult process
Molasses

Molasses is the final effluent obtained in the preparation of sugar by repeated crystallization
It is the residual syrup from which no crystalline sucrose can be obtained by simple means
The yield of molasses is approximately 3.0 percent per tonne of cane

but it is influenced by a number of factors (2.2 to 3.7 percent)
The specific gravity varies between 1.39 and 1.49, with 1.43 as indicative average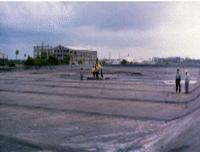 The composition of molasses varies but, on average, would be as follows:

Water                                20%    
Other carbohydrates         4%
Sucrose                             35%    
Nitrogenous compounds   4.5%
Fructose                            9%      
Non-nitrogenous acids      5%
Glucose                             7%      
Ash                                    12%    
Other reducing sugars      3%

For distillery industry
Alcohol and related products
Export to some developed countries as raw materials
It is an ingredient to animals feed
Origin
India is considered as native to thin cane
Tropical thick canes from larger islands of Oceana with New Guinea as possible nucleus

Brandes (1956) – three different movements

Introduction to Solomon islands - 8000 BC
Westerly direction to Indonesia and Philippines – 6000 BC
Fiji, Tonga, Samoa, the Cook islands & Hawaii – 600-1100 AD
World Scenario (Area, production, productivity, in million ha, tonne and t/ha)
| | | | |
| --- | --- | --- | --- |
| Country | Area | Production | Productivity |
| Brazil | 6.15 | 455.3 | 74.0 |
| India | 4.20 | 281.2 | 66.9 |
| China | 1.22 | 100.7 | 82.5 |
| Pak | 0.91 | 44.7 | 49.2 |
| Asia | 8.81 | 569.8 | 64.7 |
| America | 9.48 | 688.3 | 72.6 |
| Africa | 1.62 | 92.5 | 57.1 |
| World | 20.4 | 1392.4 | 68.3 |
                                                                                                            (FAOSTAT, 2006)
Indian Scenario (Area, production, productivity)
State

Area
( '000 ha)

Production
( '000 t)

Productivity (t/ha)

UP

2155.8

125469.9

58.2

Maharastra

501

38853

77.6

TN

335.4

35106.5

105

Karnataka

219

18267

83.4

AP

230

17656

76.8

Punjab

84

4860

57.9

Gujarat

197

14580

74

Haryana

127

8180

64.4

Bihar

101.3

4337.9

42.8

MP

55.5

2425

43.7

India

4201.1

281171.8

66.9
(Ministry of Agriculture, Govt. of India, 2005-06)
Species of sugarcane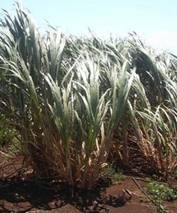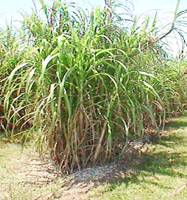 S. barberi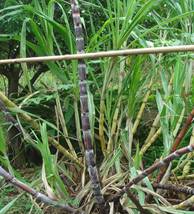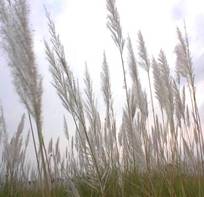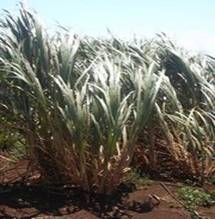 S. robustum
The plant
Grass family with tillering capacity
Above ground parts are

Stem of stalk with nodes and internodes
Leaves
Inflorescence

Roots

Sett roots developed from root primordial
Shoot root , thicker branched
Buttress roots, fibrous branched
Varieties
After the introduction of hybridization  programme in early 20th century many improved varieties are available
Varieties for region and season are available in plenty
SBI, Coimbatore in collaboration with NARS has set up breeding programme
Breeders of NARS will visit and at a specified period and carry materials
Seasons
There are four main seasons in TN

Early – Dec-Jan
Mid-season – Feb-Mar
Late – Apr – may
Special season – June-July

All India

Spring – Feb-Mar

Suru in Maharastra, Eksali in Gujarat & AP

Autumn – Sep-Oct-

13-15 months, supplies sugar for early crushing

Adsali – July Aug

16-18 months
Increase in yield & sugar recovery
Though advantageous area is declining due to water problem

Late planting – beyond March, reduction in duration and yield
Soils
Cultivated in wide range of soils
Moderately heavy medium deep (1-2m) loams are better than

Heavier and shallow soils

The soil must be of good depth and drainage
No salt and compaction
Seed bed
Preparation of good seed bed is essential

Since the same field is retained for 2-3 years
Deep ploughing / sub-soiling is needed

Field Layout

In India - by adopting two systems viz.,

Ridge and furrows system
Flat system.

There are some special systems

Trench system
Deep Trench system
Paired - row system
Ring or pit system etc.
Planting materials
Vegetative propagation

Known as seed pieces or setts
Buds on sugarcane germinate and give plants
Planting materials may be

Single bud sett or Chip bud
Two budded setts
Three budded
Seedlings raised from nursery
Seedlings raised by poly bags or
Tissue cultured seedlings

For sett planting

Sugarcane setts are prepared from nursery cane
Nursery cane is younger than (6-8 months) juice cane
Ideal cane sett
Ultimate plant stand and yield depends on the type of seed material used. The characteristics of good seed cane material are

Free from disease and pest infestation
Age of seed crop is around eight months
Setts should have healthy buds without any damage in handling and transport
Buds with higher moisture content, adequate nutrients, higher amount of reducing sugars
Cane should be free from aerial roots and splits
Pure in quality
Preparation of setts
Use of sharp knife to cut setts
Treat the setts immediately with fungicide solution
Machine cutting and mechanical planting is also followed in developed counties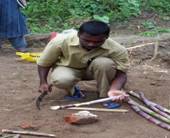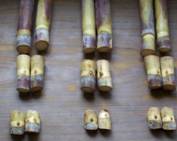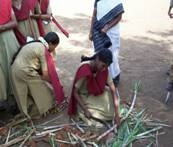 Seed rates & spacing
Depends up on the spacing
Spacing varies due to

Climate
Method of establishment

In TN

50,000 three budded setts
75,000 two budded setts
187,500 single budded setts

Row spacing may vary
Method of planting
Flat Planting
In this method, shallow (8-10 cm deep) furrows are opened with a local plough or cultivator at a distance of 75 to 90 cm
There should be adequate moisture in the field at the time of planting
The setts are planted in them end to end
Furrows are covered with 5-7 cm soil
In most parts of northern India and some tracts of Maharastra, cane is planted by this method
Furrow Planting
In this method furrows are made with a sugarcane ridger about 10-15 cm deep in northern India and about 20 cm in south India
Setts are planted end to end
The furrows are covered with 5-6 cm soil, leaving upper portion of furrows unfilled
Immediately after covering the setts water is let into furrows
This method is practiced in parts of eastern UP and in Peninsular India, particularly in heavy soils
Trench Method
In some coastal areas as well as in other areas where the crop grows very tall and the strong winds during rainy season cause lodging of cane, trench method is adopted to save the crop from lodging
Trenches at a distance of 75-90 cm are dug with the help of ridger or by manual labour
Trenches should be about 20-25 cm deep
Fertilizers (NPK) are spread uniformly in the trenches and mixed thoroughly in the soil
The setts are planted end to end in trenches
The tractor-drawn sugarcane planter is a very suitable device for planting cane in trenches
Modified trench system
Ridges and furrows are opened at 120 cm using a tractor drawn ridger
The furrow bottom is widened
As the crop grows while each manuring, only slight earthing up is done so that a trough is maintained through the crop growth

Here irrigation is given in the cane row itself

The system has been found highly useful under :

Saline water irrigated and saline soil conditions
The salts are leached down from the root zone
Higher cane yield compared to conventional ridges and furrows
FYM or pressmud application and trash mulching in this system can further improve cane yield
Special methods of establishment
Single bud direct planting
In this system single bud setts are planted directly in the field in the furrows at 30-45 cm spacing
This method is highly economical and sowing of seed material.
The buds should be healthy
Transplanting technique (STP technique)
Seedlings are raised in a nursery bed using single bud setts.
About 6 weeks old seedlings are transplanted
Advantages by adopting this system are

Saving in the seed cost

Only about 2-3 t/ha against the normal 8-10 tonnes/ha.

Synchronous tillering leading to uniformly maturity
Sufficient time availability to prepare the main field
Saving of 2-3 irrigations
Possibility of increased cane yield
Better weed management
Efficient fertilizer management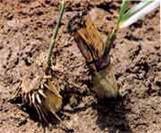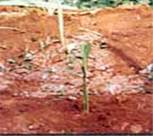 Partha" method
A technique developed by Mr. S.V. Parthasaradhy an eminent sugarcane scientist.
Suggested for water logged or excess soil moisture conditions (coastal Andhra Pradesh and Tamil Nadu during N-E monsoon period)
In this method

three eye budded setts are planted in a slanting position, 60° to the vertical, in the wet furrow or half-way on the ridges
Usually one eye bud is thrust into the soil and the remaining two will be above, which will sprout
Once the monsoon recedes, the in situ sprouted setts are pressed down into the soil and made to lie horizontally
Soil is put to the base
At this stage, the crop is manured
                              Paired row double side planting system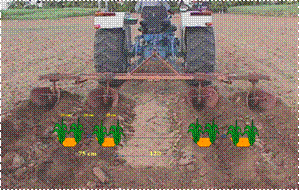 Drippers at 75 cm spacing 12 mm laterals with a lateral spacing of 195 cm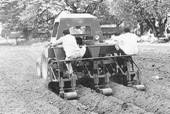 Tractor drawn sugar cane planter
Pit method /Ring pit method
A new method of sugarcane cultivation is called pit method or ring pit method, which is cost-effective and at the same time helps farmers get a higher yield is slowly catching on. Several farm trials have proved that by adopting this method, the yield can be increased to two or three times compared to the normal row-to-row planting technique. In the pit method, the crops are raised in pits at the spacing of 180 cm between rows and 150 cm between individual pits in a row. The pits are dug using specially designed tractor drawn power tillers.
The pits are then filled with top soil, 5 kg of farmyard manure (FYM), 100 gms gypsum and 125 gms super phosphate and watered well before planting. About 16 double budded or 32 single budded setts were used for planting. The setts were collected from the eight-month-old plants and were treated with 0.1 per cent carbendazim for 10 minutes before planting. About 60,000 double budded setts were required for planting in one hectare. The pits were irrigated daily for an hour through drip fertigation. Detrashing was done on fifth month after planting and the plants were tied without lodging by dried leaves.
The growth of the crop was vigorous and they matured at the eighth month after planting. Due to the equal spacing maintained on all the sides the plants grew steadily and the nutrition supplied through drip fertigation reduced the crop duration. The continuous supply of nutrition and spacing induces the early physiological maturity that was the major benefit. All the shoots are of the same age, so there is uniform growth and sugar accumulation in the canes. Sufficient space between the clumps and row to row allows sufficient light and air circulation, which is important for good growth of the crop.
The most important factor was that the sugarcane setts were placed at a depth, which were always moist, hence, in case of drought, or non-availability of water the yield was not affected. Under the conventional system, farmers in Tamil Nadu are at present harvesting about 130 tonnes a hectare
Ring pit method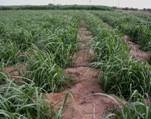 Measures to obtain higher germination
Using disease free healthy setts
Careful preparation of setts without damaging the buds or setts
Planting freshly prepared and treated
Trash mulching under

moisture stress and hot weather and late planted conditions

Seed treatment using a fungicide
Manures for Sugarcane
Apply FYM / Compost during field preparation
Inorganic fertilizers:

For Coastal and flow irrigated areas

270 : 112.5: 60 N: P2O5: K2O kg /ha

N & K applied in three equal quantities at
30, 60 and 90 DAG
N may be coated with neem cake @20%

For Lift irrigated areas

225 : 112.5: 60 N: P2O5: K2O kg /ha

For Jaggery producing areas

175 : 112.5: 60 N: P2O5: K2O kg /ha

For those soils deficient in …

In iron : 100 kg ferrous sulphate /ha
In Zinc : 37.5 kg Zinc sulphate

Foliar application and drip fertigation can

Reduce N dose
Increase cane yield
Save ground water pollution by fertilizers

Azospirillum application can enhance the growth
Band placement of fertilizer is another method by which losses can be minimized
Irrigation
To support and sustain a vigorous nursery crop, irrigating at optimum levels in important
Any shortage in the irrigation would lead to reduced sett yield
Moisture stress would pre-dispose the crop to the attack of some pests and diseases
Irrigation at IW/CPE ratio of 1.0 is ideal

According to moisture depletion irrigating at 25% depletion of available soil moisture (ASM) may be ideal
This in practical terms means:

Once in 6-7days in a loamy soil and
At around 10-12 days in heavy clay soil
Weed control
A weed-free environment is absolutely essential
Deep ploughing and removal of perennial weeds
Pre-emergence application of

Atrazine 1.75kg or Oxyflurofen 0.75 lit/ha  on 3-4 days of planting using knapsack sprayer

Post-emergence application of

Gramaxone 2.5 lit + 2-4,D Sodium salt 2.5 lit/ha as directed spray on 21 DAP

Hand weeding before each manuring
Other cultural operations and precautions
Cultural operations
Important cultural operations in sugarcane in addition to weeding, manuring and irrigation are

Earthing up
Detrashing
Propping and
Flowering control
Earthing-Up
This practice is followed where furrows are practiced
Earthing up are 2-3times during crop period.

The first earthing-up is known as "partial earthing-up and

To cover the fertilizers
To provide anchorage to root system

The second operation is "full earthing-up".

Full earthing-up is done after final manuring (90-120 days coinciding with peak tillering)
The soil from the ridge is thrown on both sides towards cane rows and the furrows will become as ridges and ridges as furrows
The furrows so formed are used for irrigation
Wet earthing up
Done around 6months age of the crop
The furrows are irrigated and the wet soil from furrows is taken and plaster the ridges

It checks late tillering and watery shoots

Heavy earthing up is useful during floods

When the flood water recedes, the excess water from earthed-up soil drains out quickly thus providing aeration
Hoeing
This operation is done where soil crust formation is very common
In sub tropics hoeing is done after germination is over using a bullock drawn or a tractor - drawn harrows
While carrying out this operation some of the germinated setts may be uprooted and they are pressed down manually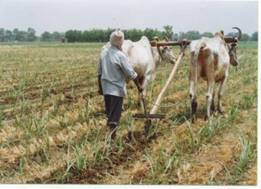 Detrashing
On an average a stalk may produce30-35 leaves
All are not useful for effective photosynthesis

Only the top 8-10 leaves are sufficient
Most of the bottom leaves are dried will not participate in photosynthesis
At the same time they drain out the food materials which otherwise could be used for stalk growth

Therefore it is important to remove the dry and lower leaves
This operation is known as detrashing
Detrashing helps in clean cultivation
Easy movement of air within the crop canopy
Reduce certain pests like scales mealy bugs, white fly etc.,
Easy entry into the field
Avoids bud germination due to accumulation of water in the leaf sheath
Easy to take up cultural operations including sprayings
Easy to harvest, obtaining clean canes for milling
Detrashed leaves can be used for

Mulching in the furrows or
Used for composting
Infested leaves with pest or disease  may be burnt out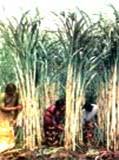 Propping
Tying the canes by using the lower bottom leaves to check lodging of cane
Propping can be either done for each row or two rows can be brought together and tied
It is for:

Prevention the lodging
Extensively followed in coastal belt where cyclone effect is very severe
Lodging also very common in

Tall varieties
Top growth is heavy and where the growth habit is not erect, and
The varieties with less fibre content
Lodging leads to several problems
Cane breakage and thus loss of stalk number at harvest loss
Lodged canes are easily infested by certain pests and diseases
Damage by rats and rodents
Bud sprouting leads to reduced cane quality
Aerial root formation affects cane quality
difficult to irrigate and harvest the cup
To prevent lodging
Heavy earthing up
Propping
Paired row planting with earthing up
Deep trench planting
Selection of varieties resist lodging
Raising wind breaks along the field borders
Application of potassium
Removal of water shoots
Water shoots are late formed tillers or side shoots which are robust and fast growing.
They originate mainly due to excess water supply, heavy and late manuring, inadequate earthing up
These water shoots contain lot of water, low sucrose and more of reducing sugars
Water shoots affect the growth of adjacent stalks
They harbor insect pests and when they are milled sugar recoveries are low because of reduced juice quality

Therefore removal of water shoots whenever they appear
Water shoots can be used as cattle feed
Control of flowering
In commercial sugarcane cultivation, flowering is not desirable
Once the plant flowered the cane growth stops and starts ripening
If not harvested immediately reversion of sugars, increase in fibre, pith formation, cane breakage etc.
The deterioration is much faster if it is summer
Solution

Non-flowering or shy flowering varieties can be used where flowering is a severe problem
Controlled irrigation
Change of planting period
Use of growth regulating substances

Spraying of ethrel at 500ppm, twice or 1000ppm once at floral initiation
Ratoon Management
The crop raised from planting cane sett is called plant crop
After the harvest of plant crop stubble sprouts and gives rise to succeeding crop called as ratoon crop
The practice of taking up ratoon crop is called 'ratooning'
Ratooning ability
Is generic, based upon ability ratoon varieties are classified as:

Good or poor ratooner
Co 1148, Co 419, Co 740 are some examples for good ratooners

Ratooning has following advantages:

Reduction in the cost of field preparation, planting material, operation cost
Saving in field duration – ratoon matures earlier than plant crop
Ratoon may give equal yield that of plant crop
Ratooning is common practice
Number ratoon varies

In Cuba 10-11 crops
South Africa & USA 4-6 crops
Hawaii, Brazil and Australia 2-3
In India ratoon yield is generally poor since

Very little attention to manure ratoon
30-40% area is under ratoon in India
The average productivity is low
Ratoon management
Select variety suitable during plant crop
Plant crop should be harvested at right maturity

Delayed harvest to be avoided

Harvesting close to the ground with sharp cutting

Stubble shaving to 4-6cm is recommended if no uniform cut at harvest

Remove the trash but do not burn it
Irrigated the field properly
Shoulder breaking or off-barring to remove decayed stubbles
Gap filling with sprouted setts or seedlings
Ratoon is less efficient in N utilization hence 25% additional N from 5-7 days after ratooning is desirable
P & K should be judiciously
Spraying of FeSO4 @ 2.5kg/ha in 150 litres on 15th day if chlorotic symptom is noticed

If persists repeat twice at 15 days interval
In the last spray add 12.5kg urea

After cultivation practices to be done more effectively
Ratoon requires more plant protection

Grassy shoot disease, ratoon stunting
Maturity and harvest
Ripening of sugarcane refers to rapid synthesis and storage of sucrose in the stalk
Accumulation of sugar in the stalk starts soon after completion of elongation phase
Glucose produced during photosynthesis is not utilized for conversion but stored as sucrose
When the concentration exceeds 16% in the juice and 85% purity the cane is said to be matured
As the crop advances in maturity:

Water content decreases
Sucrose content increases
Reducing sugars decreases

Both organic and inorganic non-sugars also decreases

At peak maturity sucrose content is at maximum and non-sugars at minimum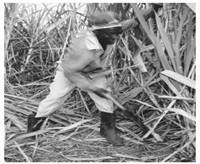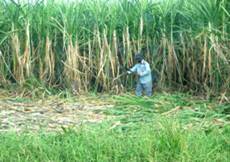 Assessing maturity

Use of hand refractometer - Brix reading
Assess the maturity by HR meter survey – 18-25% indicates optimum maturity
When the reading between top and bottom is 1:1 – is right time to harvest

If delayed

Sucrose content decreases
Non-sugars increases
Fibre content increases

Ripening is influenced by number of factors

Climate
Nutrition
Variety

Cool dry weather is the key factor

Bright sunshine
Day temp 28-30C
Night temp  12-14C

RTD (Relative temp disparity) decides

Ripeners

Spray Sodium metasilicate 4kg in 750 litres /ha 6 months after planting
Repeat at 8th & 10th months

and not at declining phase

Polaris and Ethrel are most extensively used in Hawaii

Polaris @ 5 kg in 600 l /ha
Cropping systems
Intercropping

Since a slow grower during initial 2-3 months may be an intercrop raised
The crop should not affect cane yield
Marketability, ability and feasibility decides the short crops
Pulses, potato, onion etc are some

Sequential cropping - Rotations

After sugarcane 1 or 2 or 3 crops

Rice based cropping system for one year
Wheat based
Sugarcane-banana- rice based crop rotations
Multiple choice questions
By product of sugarcane is _______
a. Spentwash            b. Bagasse      c. Molasses     d. all these
The fibrous residue of the cane stalk left after crushing and extraction of the juice is called _______
a. Spentwash            b. Bagasse     c. Molasses     d. all these
Bagasse is used for production of__________
a. Electricity              b. paper           c. methane      d. all these
The precipitated impurities contained in the cane juice, after removal by filtration is called _______
a. Pressmud                       b. Bagasse      c. Molasses     d. all these
The final effluent obtained in the preparation of sugar by repeated crystallization is ________
a. Pressmud             b. Bagasse      c. Molasses    d. all these
The yield of molasses is approximately ________ % per tonne of sugarcane
a. 5                            b. 7                  c. 3                  d. 10
Sucrose content of molasses is _______
a. 45 %                      b. 35 %            c. 25 %            d. 55 %
Glucose content of molasses is _______
a. 5 %                        b. 7 %              c. 10 %            d. 12 %
Ash content of molasses is _______ <
a. 12 %                      b. 7 %              c. 10 %            d. 15 %
Total world production of sugarcane is _______ m tonnes
a. 1255                      b. 1155            c. 1355           
Total production of sugarcane in India is _______ m tones
a. 275                        b .265              c. 300
Productivity of sugarcane is high in which of the following state
a. Maharastra            b. Tamil Nadu                       c. Punjab
Average productivity of sugarcane in India is ______ t /ha
a. 99                          b. 89                c. 67
Cultivated species of sugarcane is ______
a. S. spontaneum      b. S. robustum                        c. S. officinarum
Wild species of sugarcane is ______
a. S. barberi              b. S. robustum          c. S. officinarum
Seed rate for two budded setts is ________ setts /ha
a. 50,000                   b. 75,000                     c. 1,87,500
Seed rate for three budded setts is ________ setts /ha
a. 50,000                   b. 75,000                     c. 1,87,500
Seed rate for single budded setts is ________ setts /ha
a. 50,000                   b. 75,000                     c. 1,87,500
Latest planting technique developed by TNAU in sugarcane is ______
a. Furrow planting     b. Trench method       c. Pit method
Fertilizer dose recommended for coastal and irrigated areas is _____ kg NPK/ha
a. 225 : 112.5 : 60     b. 270 : 112.5 : 60      c. 175 : 112.5 : 60
Fertilizer dose recommended for lift irrigated areas is _____ kg NPK/ha
a. 225 : 112.5 : 60     b. 270 : 112.5 : 60       c. 175 : 112.5 : 60
Fertilizer dose recommended for jaggery producing areas is _____ kg NPK/ha
a. 225 : 112.5 : 60     b. 270 : 112.5 : 60       c. 175 : 112.5 : 60
Removal of  dried and older leaves in sugarcane is called _______
a. Mulching               b. Propping                  c. Detrashing
Tying the canes by using the lower bottom leaves is called _____
a. Mulching               b. Propping                c. Detrashing
The late formed tillers or side shoots which are robust and fast growing are called
a. Sword suckers      b. water shoots         c. sprouts
Flowering in sugarcane is called _______
a. Arrowing             b. Sprouting                 c. Tillering
_________ % of brix reading indicates the maturity of sugarcane
a. 16 – 18                  b. 18 – 25                    c. 25 – 27
Ripening in sugarcane is enhanced by spraying _________
a. Sodium metasilicate         b. Polaris         c. Ethrel       d. all these are correct