AGR 301 :: Lecture 06 ::

LENTIL Lens culinaris

Importance

Consumed as dry seed
In India as flour, dal (boiled, smashed in to soup), several snacks and sweets
Rich source of ca, phosphorous and iron
Protein 24-26%
Also rich in vitamins

Global area production

5% of pulses
3.3 million ha &
2.9 million t

Predominantly grown in Asia (80%)
Also grown in N & E Africa, N-C America, S. Europe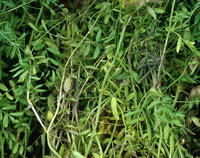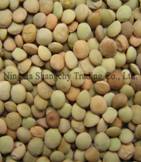 Area in India
| | | | |
| --- | --- | --- | --- |
| State | Area | Production | t/ha |
| UP | 0.55 | 0.45 | 0.81 |
| MP | 0.49 | 0.24 | 0.48 |
| Bihar | 0.17 | 0.10 | 0.58 |
| WB | 0.05 | 0.04 | 0.84 |
| Rajasthan | 0.01 | 0.03 | 1.01 |
| All India | 1.34 | 0.88 | 0.66 |
Origin

Egypt is its origin. It is grown in Spain, Pakistan, Bangladesh and Syria
Broadly classified as microsperma and macrosperma

Microsperma are predominantly cultivated in India
Macrosperma are large sized grains cultivated in Mediterranean region

To mention some varieties in India

Pant L 406, 639, Pant L 4
DPL 15 and DPL 62

Climate
            As the crop requires very cool climate it is cultivated in winter season. It can tolerate severe winter and frost condition also.  
Soil
The suitable soil types are alluvial are black cotton soils.
Varieties
Pusa-1, Pusa-4, Pusa-6, Pusa-206, Pant-209, T-36, B-77, Pant L-639.
Cultivation practises
Lentil is grown as second crop after rice. The seeds are also sown broadcast in standing rice crop without any field preparation.
Seeds and sowing
The seeds are sown in lines at 20 -30 am apart using 30 -50kg seed/ha.
Fertilizer management
The crop may be grown on residual fertility. Application of  15 kg N and 40 kg P2o5 per hectare gives better yield.
Water management
If there is no winter rain one or two light irrigation at flowering and grain filling stages are given.
Yield
The crop produces 8 – 9 quintals/ha under rainfed and 18-20 quintals/ha under irrigated condition with god fertilizer management.
Multiple choice questions
Centre of origin of Lentil  is ___________
a. America                            b. S. Africa                  c. Mediterranean region
The inflorescence in lentil is  ________
a. Raceme                            b. Spikelets                 c. Panicle
The recommended seed rate for lentil is  _________kg/ha
a. 8-10                                   b. 75-100                     c. 30-40
Lentil crop needs
a. Cool & dry climateb. Warm & humidc. Dry & hot climate
The row to row spacing by pora method of sowing of lentil is_______cm
a. 30                                      b. 10                            c. 50
The row to row spacing for late sowing of lentil is_______cm
a. 50                                      b. 20                              c. 30
Lentil contains about _______% protein
a. 20                                     b. 25                            c. 10
Weed in lentil can be controlled by applying
a. 2,4-D                                 b. Fluchloralin           c. both
The insect pod borer is commonly found on
a. Wheat                                b. Lentil                      c. Maize
Lentil belongs to family
a. Leguminoceae                  b. Linaceae                 c. Tiliaceae